Do you even jump rope?
Many people still hold a belief that jump rope is only for small girls having fun on the school playground.They couldn't be further from the truth.
Look at this young boxer doing jump rope tricks.
Seems like a great tool for improving footwork, balance, strengthening wrists and burning fat off?
Because it IS great tool for every boxer and I dare to say, every athlete – even bodybuilders. Virtually every good boxer incorporates jump rope to workout and is benefiting greatly from it.
I can still remeber one of my first boxing lessons. Trainer handed us jump ropes and said jump. While we were trying to not appear as lost as we were, the trainer told us that jump roping is ESSENTIAL SKILL every boxer MUST excel at.
Let me tell you, I was absolute TRASH at jumping rope. I still feel old emotional wounds from hatred towards every jumping rope workout.
However, things have changed. Nowadays I really enjoy jumping (skipping) rope and do it on daily basis. There is no better warm up than blasting favorite music and feeling the fruits of hard work. With enough dedication, jump roping is going to be as easy as walking.
let's recap the benefits of jumping rope :
Better footwork
better endurance
improved breathing
increased punching stamina
wrist support
Skipping rope is essential, will improve your footwork, ability to stay calm and overall makes you a better boxer.
Are you ready to earn the respect of fellow gym-goers while getting killer endurance? Great, let's start!
Buying jump rope
First things first, you'll need a jump rope. Buying jump rope might seem an easy thing to do, but in reality, it can be a nightmare. There are loads, and I mean LOADS of jump rope types to pick from. Few are great for boxing purposes, but many are absolute trash.
Speed steel jump rope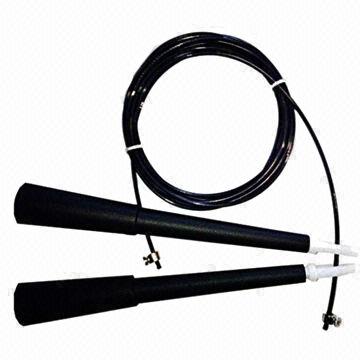 Cheap steel jump rope
Also found as a crossfit jump rope. Cheap, solid jump rope made from steel. Spins really quickly thus may be harder to learn on at first. Every store has abundance of it. My first steel rope is still spinning as a new one. Steel ropes are resilient, so you can workout outdoors, too.
Get one
Plastic jump rope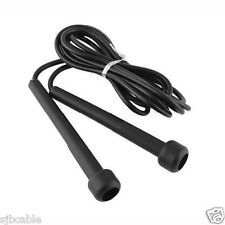 Plastic jump rope
Perfectly fine for our purposes, these cheap ropes (usually under 5$) can break quite easily, but price justifies it. Not much to be said about plastic ropes, everyone should own one. It's good to switch ropes from steel to plastic, as it will further improve rhythm.
Get one
Don't bother with other jump ropes such as weighted ropes, leather ropes, fancy jump ropes with counters and all that buzz. Jump rope must be designed for jumping, not for making a coffee.
Just buy one steel and one plastic jump rope, no need to go for overpriced ropes.
How to learn basic tricks
I could write in depth about foot placing, tricks executing and all that. But I won't because I believe it's a lot easier to learn technique from video. Guys at precision striking did an excellent job.
Everything needed to start is explained in this video.
There is only ONE important thing in the whole learning process. In order to become proficient in jumping rope, you need to jump rope. You are going to trip over and over, you are going to be angry. You are also going to notice improvements day to day. Keep jumping and success is granted.
The only way to learn a skill is to actually do it.
Other useful tips
I use basic MPOW wireless headphones. They are cheap with great bass, battery life is long enough and I love the way they are designed. No need to pay hundreds of bucks for simple headphones.Wireless headphones. Seriously. Greatest investment ever. Jumping rope without music sucks, and you can't really do it with cable headphones. Cables get in the way of rope all the time, resulting your phone being catapulted from sweatpants pocket. Many phones were lost, many minds were lost. Cable battle can't be won.
Wireless headphones are the only way to go
Jump rope playlist

Do you love or hate jumping rope? Do you have an exceptionally good rope? Tell us about your experience in comments!